LensMaster RH-2 Gimbal Review
and comparison with Manfrotto 393 Gimbal



If by chance you have previously looked over my comparison listing of gimbal heads ("A Look at the Wider World of Gimbal Heads:") it's easy to see that all of them use Arca-Swiss style quick release clamps except one - the Manfrotto 393. Until now the 393 was the only gimbal I had ever used with my Canon 500mm f/4 L IS, and consequently, the 357 Pro QR clamp that comes on the 393 is the only clamp and plate I'd ever used with my 500 as well. Having seen how robust and safe this quick release is, I swore I would never use any lesser quick release.

That promise I made to myself eventually put me in a quandary. While my 393 has always worked perfectly well, I have for some time secretly wished for a gimbal that wasn't a "double wide". The single post "J" style gimbals always looked lighter and less "bulky" than my "U" shaped 393. But that didn't matter, because there simply were no "J" style gimbals without Arca-Swiss clamps, and that was the deal-breaker.

And then I discovered the LensMaster RH-2 Gimbal . . . .

Actually I had known of the LensMaster gimbals for some time, but I had never looked into them. I thought they were not available in the US since they're made in the UK (www.LensMaster.co.uk) and are not sold through any US retailers (B&H Photo, Adorama, etc.). I also never knew they only cost about $240, an extremely reasonable price compared to other full gimbals. On a whim I recently took a look at the LensMaster web site and discovered that while LensMaster gimbals come with the ubiquitous Arca-Swiss clamp, it appeared the clamp was bolted on with a single large bolt, and not machined right into the gimbal arm like most other brands. I wondered if perhaps this clamp could be unbolted and replaced with my favorite quick release, the Manfrotto 357 Pro QR.

With a glimmer of hope I corresponded with the designer and maker of the LensMaster gimbals, Robert Hardy, who confirmed the clamp could indeed be unbolted. He even offered to special make one for me with no clamp or pre-drilled hole so I could drill and mount whatever I wanted on it. He was friendly, patient and helpful with replies to all my email inquiries full of questions. In addition, all the reviews I could find on the LensMaster gimbals were strongly positive. With the knowledge I had finally found such a reasonably priced, quality, "J" style full gimbal that I could convert with my quick release of choice, I decided to order the RH-2 full gimbal. The LensMaster web site US sales page at https://www.lensmaster.co.uk/usa-sales.htm provides a currency conversion calculator from GBP £ to Canadian, Australian, and most importantly, US dollars, which made ordering easy. I opted not to get the special "no clamp, no drilling" version that was kindly offered. I decided ordering the standard version with Arca-Swiss clamp and plates included was the better way to go. I could use the existing bolt and hole to mount my own clamp and reserve the Arca-Swiss clamp in the event I ever wanted to return the gimbal to its original state.

My LensMaster RH-2 gimbal arrived 11 days later via mail from North East Lincolnshire, England. It came with two Arca-Swiss style plates - a 50mm plate and a 140mm long plate to provide sufficient slide adjustment for balancing large telephotos. It also included a 1/4-20 to 3/8-16 stud adapter and two hex wrenches. My first instinct was to compare it to the 393 gimbal I'd been using for the past six years.


Gimbal comparison -
left- LensMaster RH-2 gimbal
right- Manfrotto 393 gimbal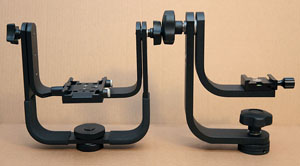 Gimbal comparison -
left- Manfrotto 393 gimbal
right- LensMaster RH-2 gimbal

The LensMaster is made from "flat" stock in the same simple style of the 393, but that is where the similarity ends. Viewing the two comparison photos here, you can see the RH-2 is considerably beefier than the 393 in all respects. The "bar" stock on the RH-2 (12mm) is 50% thicker than the 393 (8mm) and it's 10% wider at 44mm (RH-2) versus 40mm (393). Despite this beefier build, the RH-2 is 24% lighter than the 393. Even with my 357 Pro QR clamp replacing the Arca-Swiss clamp, the RH-2 will still weigh less than the 393.

The rubberized knobs on the RH-2 are much larger too, providing some serious grip. The rubber coating is not a "snap on cap" like the 393 gimbal panning knob. It cannot come off and be lost forever as happened with the rubber grip from my 393. The fit and finish of the parts is smooth and clean, with crisper edges and finer finish than the Manfrotto. You can tell more care and pride went into its manufacture.

The RH-2's large knobs make adjusting the tilt and pan tension very easy. The thing some photographers may not like is that neither of these knobs actually "lock"†. No matter how tight you make these, the tilt and pan can be moved when enough pressure is applied. This is noted on the LensMaster web site. The reasoning behind this is simple. Without a "lock", any accidental bumping of your lens, perhaps against a tree limb while carrying it on the tripod for example, will allow the gimbal to "give" a little. It actually makes good sense. If the tilt and pan were completely locked, it could easily cause more damage to your lens than when it's allowed to absorb the bump by turning under the pressure. Worse yet, if such a bump happened while locked, it could possibly loosen the gimbal base against the tripod stud. If it goes unnoticed, that could cause the gimbal, lens and all to eventually fall to the ground. This scenario can never happen with the LensMaster because the pan tension is never tighter than the head tension on the tripod stud. As designed, the tilt and pan can be tensioned quite sufficiently to hold the lens from accidental nudging when you want it to stay put for awhile, making it unnecessary to completely "lock" it down.

†Note: The latest versions of the LensMaster gimbals have a slight modification, and will now lock a bit tighter on the tilt knob than my original version.

The RH-2 does not have vertical adjustment on the internal "arm" of the gimbal, as do most of the higher priced full gimbals. This may be an issue for some, but does not present a problem for me. The centerline of my 500mm matches correctly. By comparison, my Manfrotto 393 has three holes for vertical adjustment, but they are all for smaller lenses and quite useless for my 500mm. It is a good inch off centerline of my 500mm, which was enough to make it the least bit top heavy. It was never really a big issue because I always used just a little tension on the tilt, but now I don't have to worry about it. In this respect the RH-2 is an improvement for me over the 393.

The LensMaster gimbals are all "field serviceable", meaning they can be disassembled for cleaning, just like the very expensive and popular Gitzo Systematic tripods. If any dirt, grit or sand becomes a problem, you don't even need tools to take this gimbal apart and clean it. Mild soap and water and a touch of grease is all you need.

Though I'm not using the included Arca-Swiss clamp, I noticed the clamping jaw and screw threads appeared to be more sturdily made and of better fit than the Arca-Swiss clamp on the Acratech ball head I used to have (the one that turned me against using Arca-Swiss clamps in the first place). The fit between the plates and clamp jaw looks much deeper as well, and both of the included plates have safety stop screws.


Left- Mounted Manfrotto 357 quick release
Right- Original Arca-Swiss quick release
Modified Manfrotto 357 quick release
and original Arca-Swiss quick release

Modification:
Replacing the Arca-Swiss quick release

Before my testing could begin I needed to swap out the original Arca-Swiss quick release for my own Manfrotto 357 Pro QR quick release. The only actual modification was to the 357 quick release itself, requiring only a drill, a drill bit and a countersink bit. I unscrewed the M8 bolt holding the original quick release on the RH-2, removed the quick release and put it away. Then I drilled out a pre-existing hole in the 357 quick release, making it a little larger to accept the M8 bolt shaft. Next I drilled a countersink over the newly enlarged hole to match that of the original quick release countersink and bolt head. Then I simply screwed the 357 quick release onto the gimbal arm into the original threaded hole. It only took a few minutes and could hardly have been simpler. The gimbal was now ready to mount my 500mm.

Testing:


The LensMaster RH-2 with Manfrotto 357 quick release,
Canon 1D4, 500mm f/4 with 1.4x TC on Gitzo 1548 CF
With the 500mm mounted, I found the tilt and panning motions fluid and effortless. I really don't see how paying more for a gimbal can make it any more silky smooth than this. There is simply no quantitive way to measure the "feel" between the LensMaster and the 393 that I used for six years, but the LensMaster "seems" a bit silkier. I can say that appearance-wise, the LensMaster doesn't overpower you visually like the "all encompassing" 393 gimbal.

The two photos at right show how the quick release is mounted with about half its length forward of the arm, just like the one that came on my 393 gimbal. This allows for easy adjustment of large lenses, which will understandably be front heavy, even with a pro body attached to partially counterbalance it. With this set-up, it's a simple matter to loosen the single bolt that mounts the quick release and turn the quick release around the opposite way. That would put it extending behind the arm, shifting the balance point if I ever needed to. A lens larger than this 500mm would benefit from that reversed adjustment, which makes this set-up extremely versatile.

After believing for years that I would never find exactly what I wanted, I can finally say I have it now - a high quality single arm full gimbal, at an extremely reasonable price, with my trusty Manfrotto 357 Pro QR quick release mounted to it. I truly never thought it would happen, but it has, and I am most definitely a very happy camper. I foresee this relationship being a long and happy one.

Bang for your Buck:

Quiet simplicity is the key to the LensMaster's design. There are no exotic parts to give trouble and then have problems getting replacements or repairs. I just don't see what could go wrong with this gimbal. If you did have any questions, you have direct access to the man who made it, who himself is an active wildlife photographer. One email is all it will take for a prompt response.... no soulless corporate maze to deal with.

As noted in my earlier review of the Manfrotto 393 gimbal, I don't foresee any other full gimbal beating out the 393 for sheer weight capacity and functionality versus low cost. However, if you don't care for the cumbersome "U" shaped gimbals, and desire a single arm "J" style gimbal, I have to say the LensMaster RH-2 is the only one I have found that rivals the 393 in the "bang for your buck" department. Even though it costs some $65 more, it is well worth every penny. The RH-2 has won my heart, and I am so glad I purchased it. It is smaller in overall size, lighter, and far more aesthically pleasing than the cumbersome looking 393. The panning adjustment is infinitely easier, and I can very quickly convert it back to Arca-Swiss compatibility if I ever needed to in about two minutes, using nothing more than a single hex wrench. Sorry Manfrotto, but my 393 is going up for sale. If you are an Arca-Swiss fan, the LensMaster RH-2 is the one to beat. And if you desire a quick release other than Arca-Swiss (such as the Manfrotto 357, Vanguard QS-48PF, a Giottos or other) this is the gimbal that lets you have your cake and eat it too.


LensMaster gimbal family comparison

Other LensMaster Gimbals: (Images courtesy of LensMaster)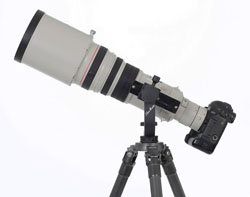 500mm f/4 with TC and gripped body
on the tiny T1 Traveller

I would be remiss if I did not mention LensMaster's two other gimbals, the RH-1 and T1 Traveller. Both are the side-mount variety, and every bit as sturdy and beefy as the RH-2, and are certainly value champs in their own right. I find of particular interest the T1 Traveller, an amazing little gimbal. As you can see in the comparison photo at right the T1 Traveller is effectively half the size of the RH-2, yet still rated for a 50 lb. load. It's made of the same thick 12mm stock, but is 30mm wide, and weighs in at only 1.3 lbs. While I am personally not a fan of side-mounting any lens in the weight class of a 500mm f/4 and up, this tiny beast can easily handle it, as shown here at the left.


Gripped body mounted
on the T1's L-bracket
The LensMaster T1 kit with L-bracket
T1 with bracket tilted
(not recommended)
The T1 comes with a sort of "universal" L-bracket included, as shown in the "kit" photo below center, allowing you to mount a camera body. The L-bracket has no safety stop, and is therefore recommended only for use as shown at the immediate right, sitting against the panning knob when mounting a camera body. By clamping the bracket a little higher, it is possible to tilt the camera up and down as in the far right photo, but again, this particular application is not recommend by LensMaster. If your body has a custom L-bracket, I should think you could use it instead.

The T1 Traveller would seem to be an excellent size to pack for travel, and very lightweight for backpacking. (Update: While I enjoy my T-1 Gimbal, I have learned the T-1 is no longer being made.)