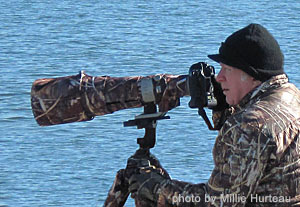 I can be reached by email at:



A great deal of my photography is done along the North Carolina coastline and inland coastal areas, though I also frequent other locations along the eastern seaboard. Fall, Winter and Spring are my favorite seasons because of the extensive migratory flocks that make the Atlantic coast such a wonderful place for bird photography. Birds are my main focus, with ducks, shorebirds and other waterfowl topping my list. However, I will not pass up an opportunity to photograph North Carolina's intriguing wild horses. For general chronicles of my photography adventures visit "Carolina Wild Photo - the Blog".

When I added kayaks to my list of equipment, I found that I could reach areas previously inaccessible to me, even with the small duck boat I originally used. My general kayaking trip reports are posted on "The Casual Kayaker".

My penchant for making many of my own photographic accessories is reflected among these pages. These projects keep me occupied when the weather is not conducive to good images. I share all of these do-it-yourself projects, plus reviews and tips, here in the "Equipment Notes" section.